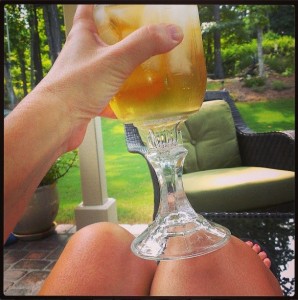 How do I do it? Grace and whiskey.
Through the years, several friends have said to me, "I don't know how you do it."  I muster as much southern grace as I can to deal with life's difficulties when they inevitably come my way. As the parent of a child with high functioning autism and the daughter of someone with schizo-affective disorder, I have had the pleasure of meeting and interacting with many families whose children and loved ones are dealing with complex medical needs and much more severe forms of neurological and mental disorders. I feel so very fortunate that my child is high functioning enough to respond to and benefit from the myriad of interventions that we have made available to her, and I feel for those whose family members will not be able to progress as she has. While high functioning autism has brought us certain difficulties, it has certainly brought us many gifts, including a better perspective on how to have fun whenever and wherever we can and repeated lessons in not sweating the small stuff. When I run out of grace, there's always whiskey.
In actuality, I don't drink whiskey very often, but when I do, it's always delicious and always fun! We love whiskey and bourbon here at Grace and Whiskey. Tell me, what brand should I try next?
Already sampled:
Woodford Reserve
Whistle Pig
Jack Daniels
Jack Daniels Single Barrel
Winter Jack
Gentleman Jack
Jim Beam
Johnny Walker Black Label
Angel's Envy
Slow & Low
Bulleit
Maker's Mark
Maker's 46
Blanton's
Chicken Cock
Forged Oak
Fireball
Basil Hayden's
My palate is happy to try whiskey at any price point. What's your favorite whiskey or bourbon?
Save
Save
Save
Save
Save
Save